Estamos comprometidos a cumplir con todas las precauciones universales para minimizar la propagación de COVID-19 en nuestros autobuses. Esto incluye, pero no se limita a:
Barreras entre los pasajeros y nuestros conductores
Las máscaras son usadas por cada pasajero.
Limpiezas exhaustivas de autobuses
Distanciamiento social
A continuación se muestra una lista de actualizaciones del sitio web de CT Transit.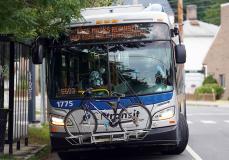 Reminder Regarding Face Coverings | CTtransit – Connecticut DOT-owned bus service
Remember: The Centers for Disease Control and Prevention (CDC) issued an Order on January 29, 2021 requiring the wearing of masks by travelers to prevent spread of the virus that causes COVID-19. The Transportation Security Administration extended a federal requirement that travelers wear masks on c…
Operations Updates | CTtransit – Connecticut DOT-owned bus service
Regularly scheduled services are operating, with some modifications. See Alerts and News for adjustments. Passengers should wear a mask or cloth face covering on all CTtransit buses and at bus stops.